FidoPhoto
Great portraits of you and your dog 
Details
The Details
Our mini woof sessions are a great opportunity to have some stunning pictures of your dog created in a glorious natural environment - where the dog is happiest - in the great outdoors with you.
The great thing about these sessions is that they won't cost you a lot - simply £45 for 1/2 and hour shooting and you get 
1) a mobile phone gallery app featuring 10 of your favourite pictures
2) A 16 page soft back mini album featuring up to 20 of your choices
3) A short slideshow which you can share on social media featuring your 20 choices
All in all it's a great deal but we also have some great offers on prints and wall mounted products just have a look at our product packages
BOOK YOUR SESSION NOW.
Every Wednesday evening we are in the park so simply pick your time slot on the booking form 
Book & Schedule
About the Location
THE CASTING CALL Sessions are at 
Wollaton Park Nottingham
meet me by the gardens entrance at the front of the hall 
About the Photographer
Tim Elwood owner of Elwood Photography has been photographing people for more years than he can remember. Wrigley can't remember an awful lot - so they have plenty in common. 
Tim said "I know many people really love the dog - Rover is an important part of the family and as such deserves to have place on the wall.
The Woof Wednesday sessions are just great fun and the results are FANTASTIC - people love them.
Tim is married to Claire and they have 3 grown up kids and of course Wrigley the dog.
A Selection of My Work
click/tap to view bigger
Add ons
With every Woof Wednesday session you get a mobile phone gallery and an A5 soft back booklet. BUT after you have seen your images  you may like to take advantage of the following great product offers we are able to make through some of the best colour labs in the UK.
The Tea Cup Dog Package £50
This package is all about small and cute a mobile phone case, plus a set of 4 coasters, a key ring and a fridge magnet.
The Scottie Package  £175
Amazing unique value for money package 27 prints 10cm squared together with a 13 inch square with magnetic mounts so you can constantly change the picture! 
The Bull Dog Package £230
A single piece of high quality wall art (landscape or portrait) 12 inches x 18 inches with a no nonsense frame in black, silver, gold or white and non reflective glass for that superior finish.
The Dalmation Package
A pair of stunning high quality wall art pieces 
big one is 36 inches x 24 inches (portrait)
small one is 24 inches x 16 inches (landscape)
Can feature single or multiple images
Product Gallery
click/tap to view bigger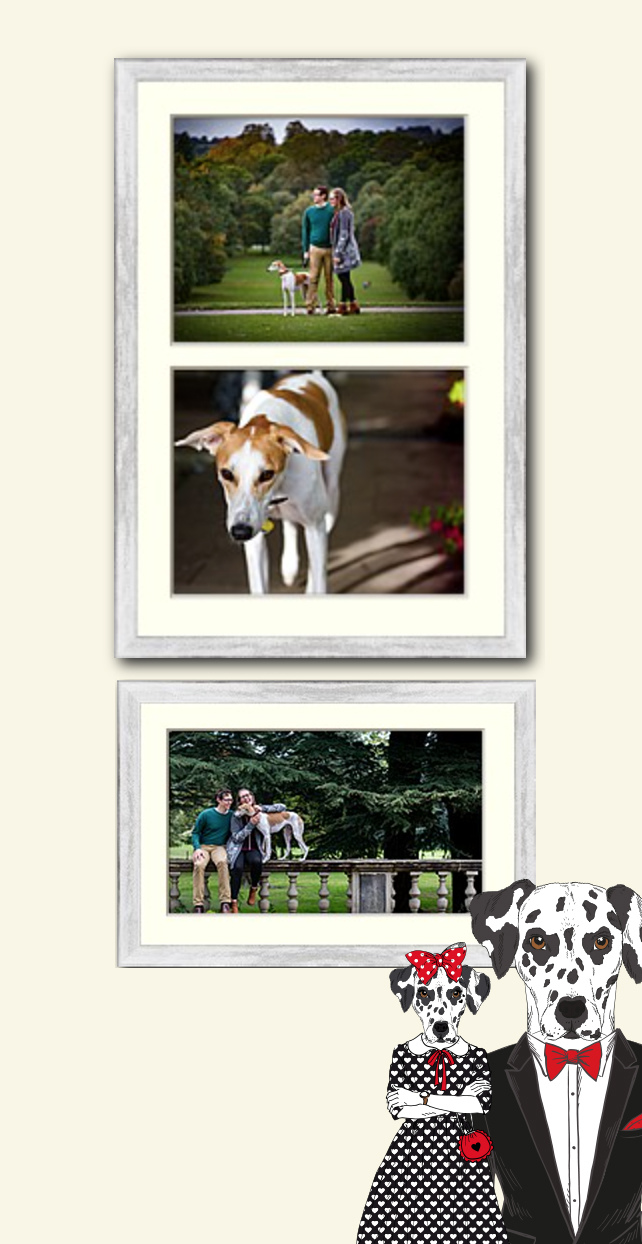 Wednesday EVENINGS
Reserve your Woof Wednesday session for £45. 
Click the button below to view available spots, and to book your time slots.
Book & Schedule